LIFE INDESAL participated in the European Desalination Society (EDS) Conference on Desalination for the Environment, Clean Water and Energy on 22-25 May 2023 in Limassol, Cyprus. The event focused on recent developments in desalination technology, its cost and potential scope of application, and related socio-economic and environmental issues.
The Mediterranean is one of the most water-scarce regions in the world, with an average annual precipitation of only 650mm, compared to a global average of 860mm. Furthermore, water resources are unevenly distributed in the Mediterranean region with 72% of resources in the north, 23% in the east, and just 5% in the south. Thus, the shortage of water is mainly focused in the southern and eastern Mediterranean countries.
Cyprus is particularly one of the most water-scarce countries in the world. Groundwater resources are overexploited, and water demand largely exceeds water supply. Hence, Cyprus relies on seawater desalination for 80% of its drinking water, with reverse osmosis providing more than 95% of the total desalination capacity in the country. To produce this water, it is estimated that desalination plants in Cyprus are responsible for around 2% of the country's total greenhouse gas emissions, and that they account for 5% of the total electricity consumption on the island. In this context, energy efficiency improvements are crucial to reducing the impact of water provision for the country.
Olga Ferrer, Desalination and New Technologies Area Manager at ACCIONA water business and coordinator of the LIFE INDESAL project, presented the project's energy-efficient and circular desalination technology as a potential solution for similar water-scarce contexts in the Mediterranean and around the globe. She gave an overview of the project, explaining the pilot unit in San Pedro del Pinatar II seawater reverse osmosis desalination plant (Murcia, Spain), and outlined expected project results, with potential benefits for addressing water scarcity while producing renewable energies and resources simultaneously.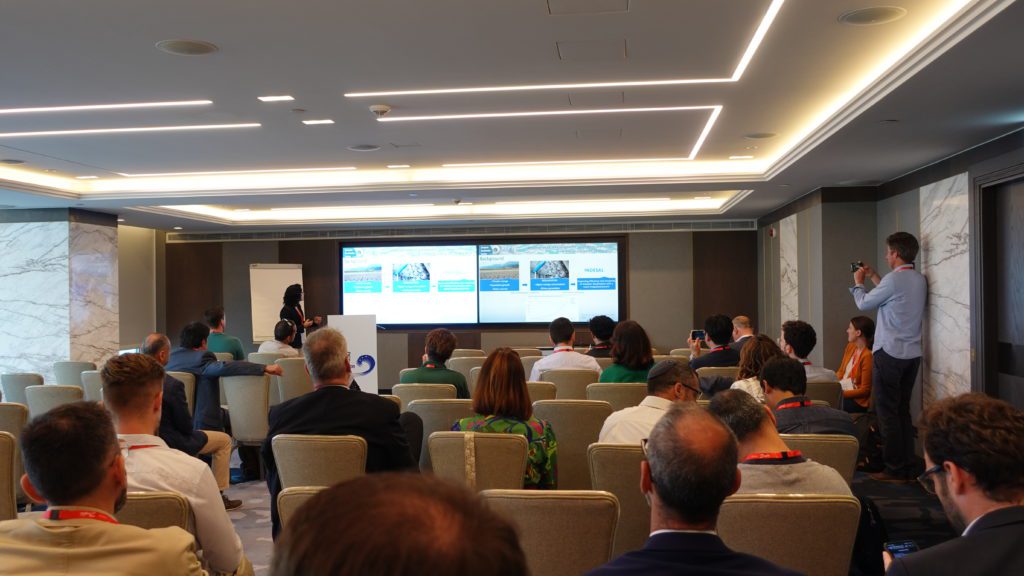 The LIFE INDESAL project aims to demonstrate that the integrated solution, combining three technologies – Low pressure Multistage Reverse Osmosis, Reverse Electrodialysis, and Electrodialysis with Bipolar Membranes, that is capable of transforming desalination plants using sustainable and resource efficient processes to producing high quality water for urban, agricultural and industrial uses, renewable energy, and chemical compounds to improve plant self-sufficiency.
"Getting the desalination community together in this kind of events to discuss cutting-edge technologies is key to moving towards the development and implementation of sustainable solutions to tackle upcoming water related challenges. In our case, with LIFE INDESAL, we aim at contributing to increase desalination circularity and sustainability, by obtaining energy and reagents from the generated brine and by reducing the specific energy consumption of the reverse osmosis process,"

concluded Olga Ferrer after the event.